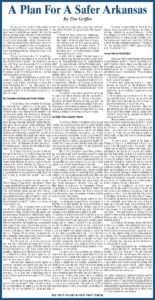 The issue of crime has been in the news a lot lately and weighs heavily on the minds of Arkansans for good reason. A study this year named Little Rock the most violent state capital in America. But this is far from just a Little Rock problem – it's plaguing communities in every corner of our state. Last year, Arkansas's violent
crime rate hit its highest mark in more than three decades, and we exceeded the national average in violent crime for the 16th year in a row. One study recently found that Arkansas has the 4th highest violent crime rate in the country. 
Click the pdf below to read my full plan.